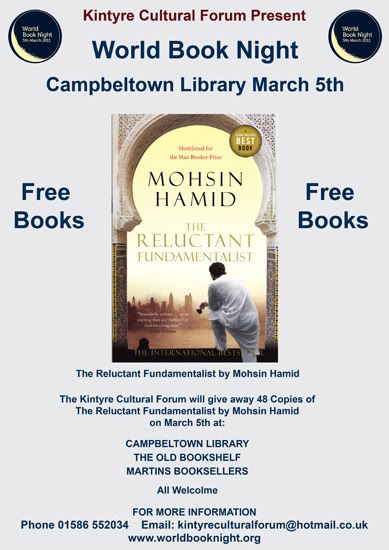 The Kintyre Cultural Forum (KCF) is pleased to announce that they will be taking part in the inaugural World Book Night (WBN) on Saturday March 5th 2011. As part of WBN the KCF will be giving away 48 free copies of "The Reluctant Fundamentalist" by Mohsin Hamid in collaboration with Campbeltown Library, The Old Bookshelf and Martins Booksellers.
World book Night is a dynamic and unprecedented industry-wide initiative to celebrate adult books and reading which will see one million free books given away on World Book Night by 20,000 passionate readers to other members of the public across the UK and Ireland. World Book Night will take place two days after World Book Day, the established nationwide reading campaign.
The KCF are keen to involve as many local reading and writing groups. In addition to this they would also like to include groups or organisations that are keen to promote reading to their members. If you are part of any of the groups mentioned above or are interested in WBN please do not hesitate to contact us. If you wish to take part in WBN as a book giver or to simply receive a copy of The Reluctant Fundamentalist please contact Iain at 01586 552034 or email
kintyreculturalforum@hotmail.co.uk
I will post up more information later in the week.
Iain